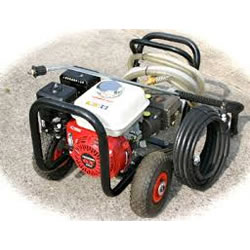 This very portable washer is useful for domestic and light industrial use. Powered by a Honda 6.5hp Petrol Engine, it gives up to 2,000psi of Water Pressure out performing most electric washers in power and versatility.
Specifications
Fuel: Petrol
Starting: Pull Start
Working Pressure: 2,000psi
Flow Rate: 14 litres per minute
Hose Length: 10metres approximately
Lance Length: 3'
Size: Length 82cm, Width 47cm, Height 54cm.
Contact Us About This Product
Fill in your details and we'll get back to you as soon as possible. Or feel free to call us direct on 028 7134 1393